It's no secret we're a huge fan of unadulterated coastal living here at SurfStitch, and we recently decided to treat some of our amazing customers to the very lifestyle we spend so much time chasing. We teamed up with Resort Latitude Zero (they're the tropical legends living on a remote island situated on the equator), to offer the ultimate holiday prize pack.
RLZ are experts at teeing you up with the kind of island escape you can only dream of. And that's whether you're keen to surf or sip some beachside beverages!
The moment we called to deliver the epic news to Bianca and heard her squealing with excitement on the other end of the line, we knew we needed to catch up with them after the trip to get a little glimpse into the life of a lucky competition winner!
We chatted with Bianca and her partner Keanu to find out what it was like to be whisked away to a haven of good waves, good times, good people and good food.
Join the conversation!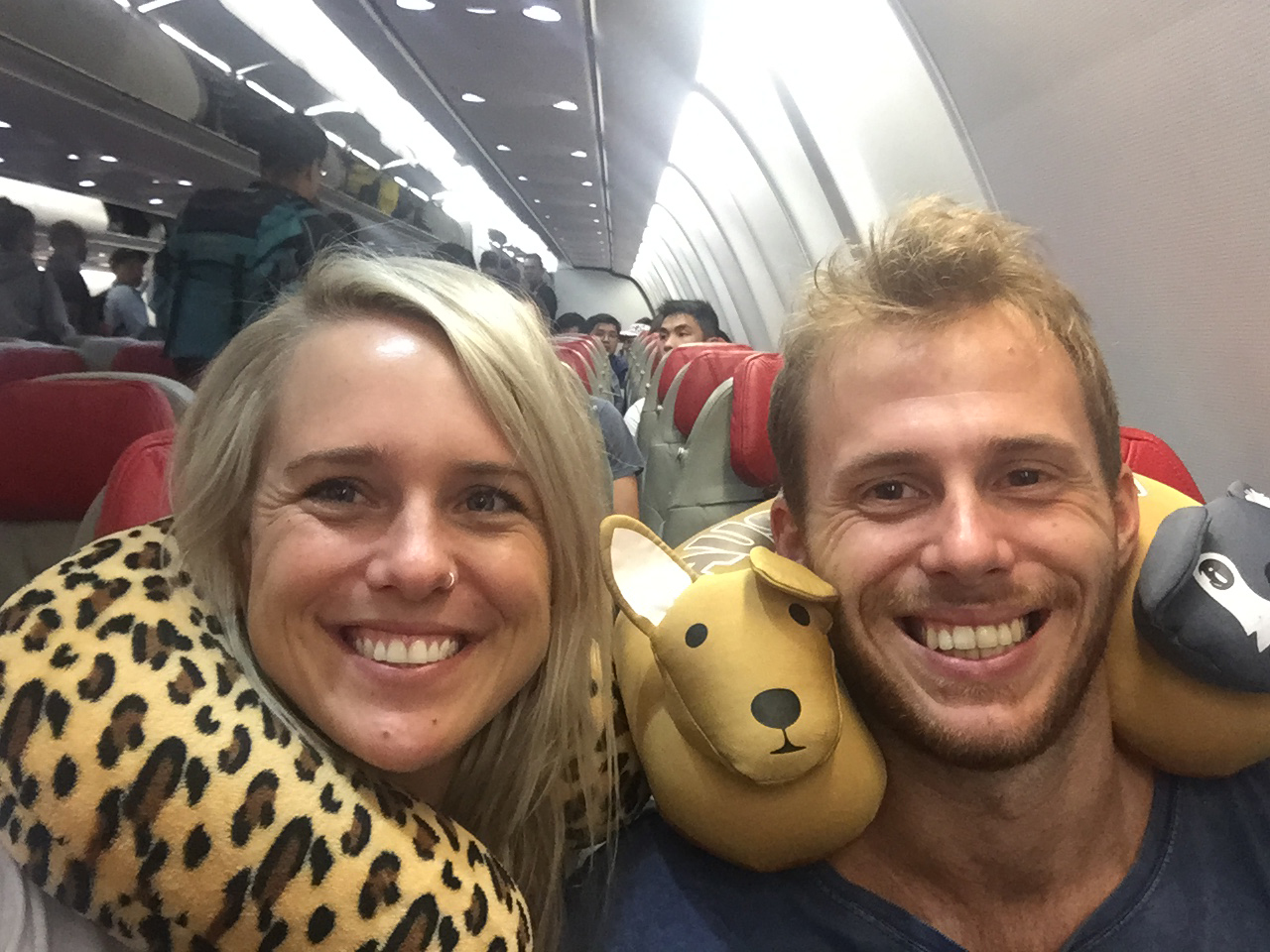 First things first, can you tell us a bit about yourselves?
Bianca: "We live in Bondi Sydney – I work for F45 HQ and Keanu works for the Navy. Both of us are obsessed with everything to do with the ocean. We try and get into the water as often as possible but Bondi gets extremely busy, especially during summer! We usually surf Newcastle or go on a roadie somewhere to escape the chaotic crowds!"
What was your reaction when you got the phone call saying you had won the trip of a lifetime to the Telo Islands?
Bianca: "Well, as you can imagine I didn't believe it at first. I couldn't wrap my head around the fact that I'd won a trip to Latitude Zero, like I've always wanted to go to this place! I got the call when I was at work and I was so overwhelmed I ran back into the office and yelled YEWWWWW! I was also super excited because anyone living in Sydney would understand that you have to battle 50 people in the water on a bad day, so to have someone tell me I'm going to the Telo's was mindblowing."
Keanu: "Bianca called me up at work and told me we had won, and my first reaction was to tell her to not give them any personal info [laughs]… I thought it was a scam! No one wins these things, right? [laughs]"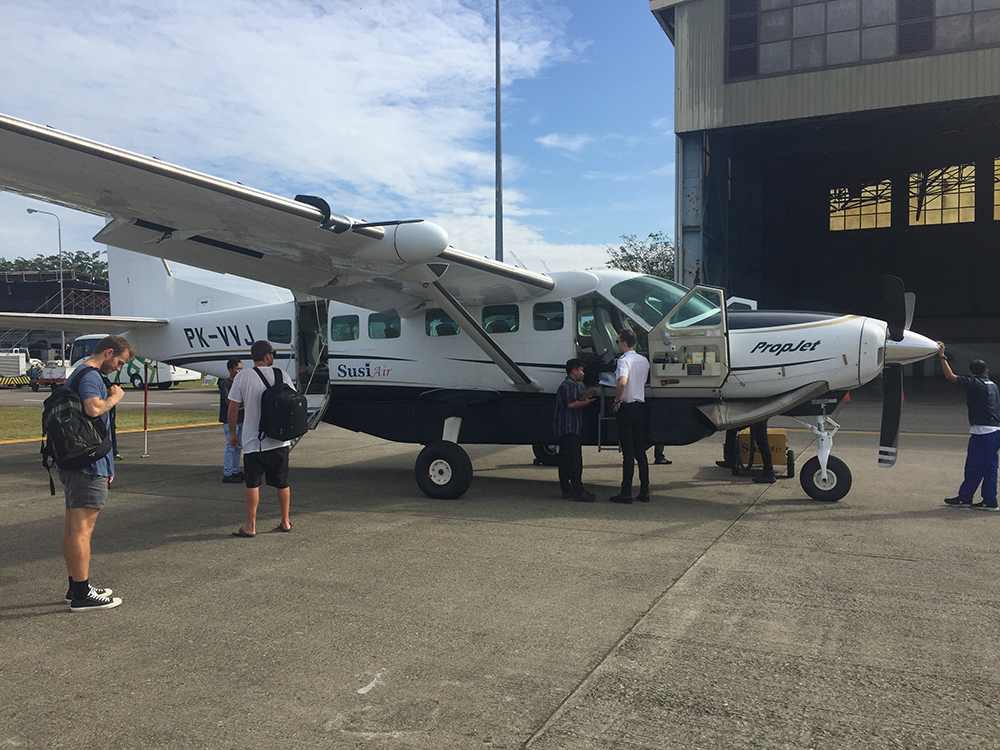 Did you ever think you would win a competition like this? Did it come out of the blue or are you guys a bit "lucky" with stuff like this?
Bianca: "To be honest the best thing I've ever won is a meat tray. Don't get me wrong that's fantastic but this really was the best surprise ever! I couldn't believe this was real."
Keanu: "Not a chance. And then once it sank in and I told everybody I knew that I was heading to Sumatra, I realized Bianca had won and I hoped she was taking me!"
What was the reaction of friends and family when you told them what you'd won and where you were going?
Bianca: "Well for starters my work friends were extremely jealous. I rang my parents after and mum had already started planning what to bring.. sorry mum."
Keanu: "Everyone was so excited for us and knew how much we both needed a holiday."
Describe for us what it was like to set foot on the island for the first time?
Bianca: "We drove in on this speedboat and it was just the most amazing island you could ever imagine. The bluest of blue waters, white sand and completely its own island. You could see the resort poking its head from above the palm trees. I couldn't believe this was our home for the next week!"
Keanu: "We went past so many islands wondering if we were there. It was more amazing than we could have imagined; crystal clear water and beautiful white sand. We even had a little welcoming crew with the coolest island dog named Larry. I couldn't wrap my head around how perfect everything was."
What was the crowd factor like in the Telos while you were there?
Bianca: "We caught it on a real lucky week where there was only another couple and us at the resort so we could go to whatever surf spots we liked. The guides knew exactly where to go so they just took us to where was best on each day. We were there on a smaller week but we definitely got our fair share of amazing (uncrowded) waves. It was a dream."
Keanu: "We didn't have to deal with any crowds. We only had to share the resort with one other couple and they were cool. The worst we had surfing was maybe three other people but everyone was heaps chilled and get along."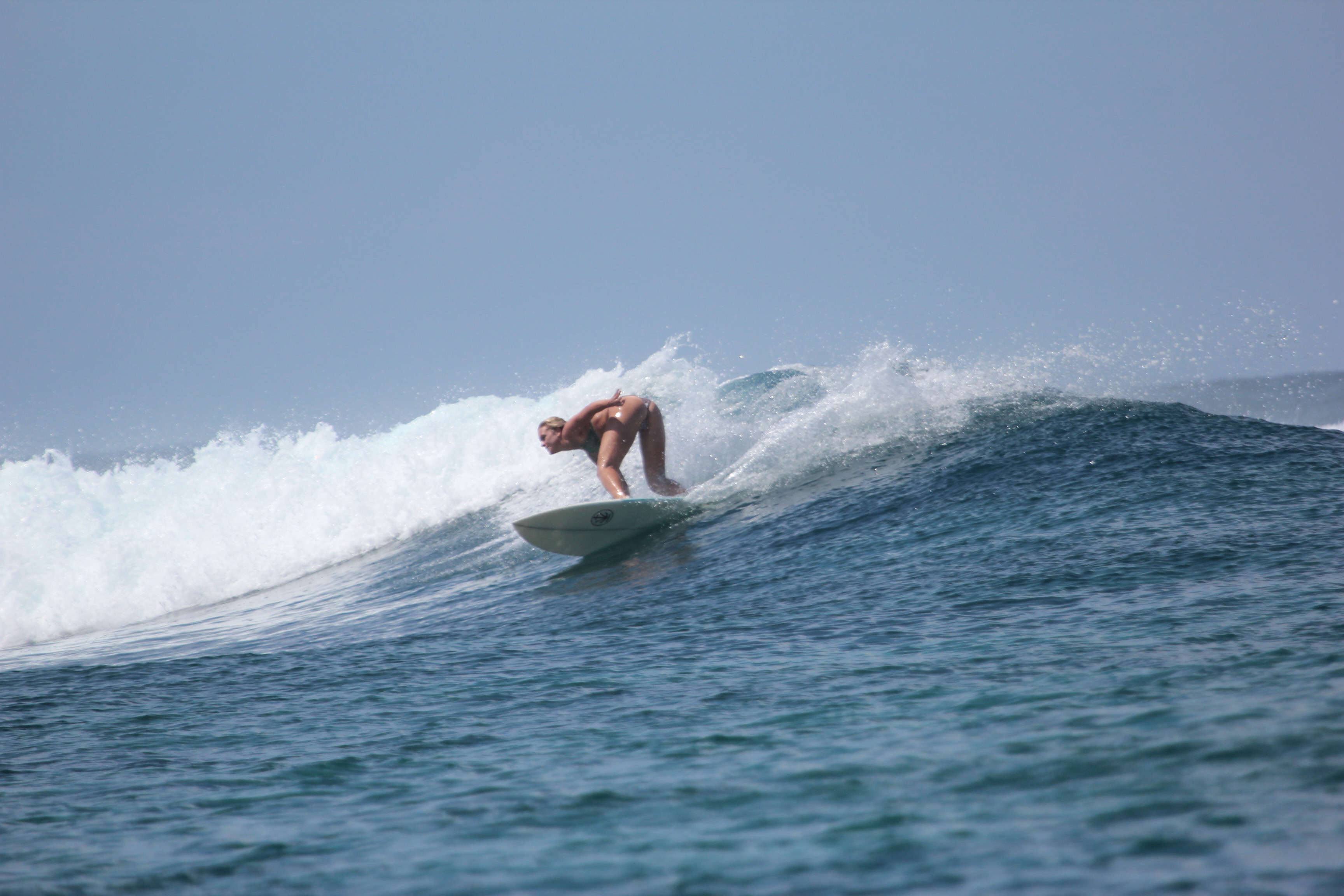 What was the best swell you got during the trip, and did you both have a favourite break to surf while over there?
Bianca: "We surfed a few different places but my favourite was Rangas, this right reef break which was so much fun. It was on the shore of a Muslim community so women have to wear shorts and shirts but I was happy about that because I was getting pretty crispy anyway. This break was so consistent and it was nice to look at the village on the foreshore going about their daily lives."
Keanu: "My favourite was 'Bum Cracks' which was this amazing left over this colourful reef. This was a bigger day and we had the whole place to ourselves."
How long have you both been surfing and what boards and gear did you take with you to the Telos?
Bianca: "I've been surfing since I was 12 and but grew up on smaller waves in North Queensland. I took a 5'6" fish. Pretty much an all-rounder board which is super fun in all conditions. I also took booties but ended up just wearing them for one day because the water was so hot I feel like my feet where in a oven."
Keanu: "I started surfing late (around 17) so Bianca smashes me. I took a 5'7 foamy and a boogy for the shallow spots which was pretty fun on some of the bigger waves we had."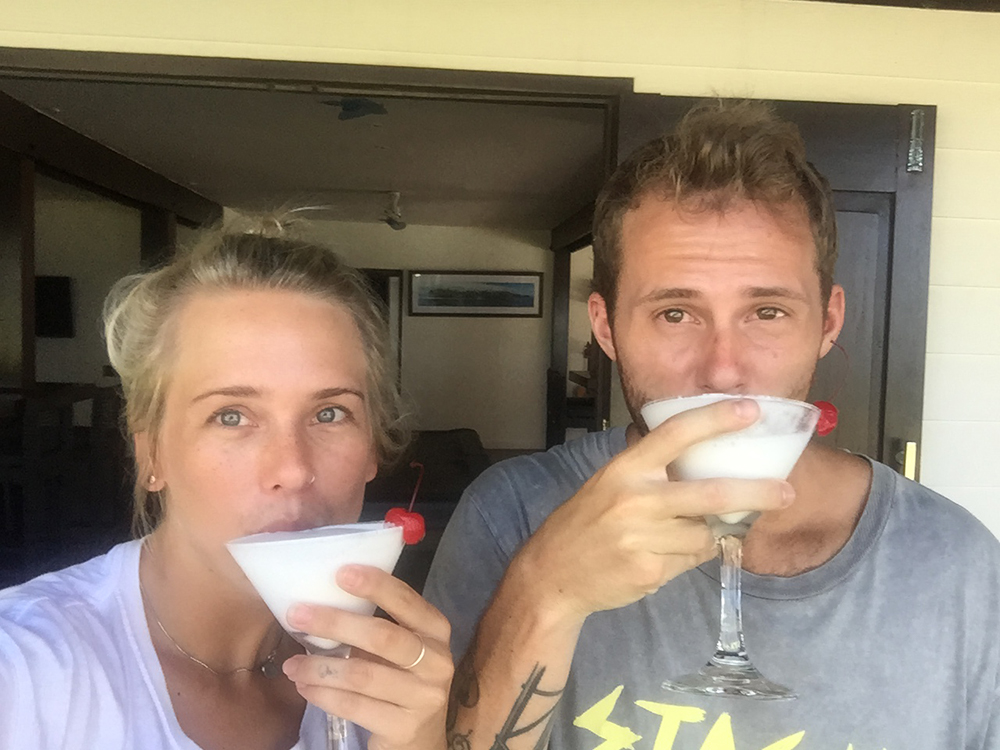 Is it the kind of place you think you'll go back to again?
Bianca: "100%, no doubt about that! I would recommend anyone heading to the Telo's. We made our way into the town and the people where super nice and chilled out. Everyone is so inviting and they make you feel completely comfortable."
Keanu: "It was so amazing I'd love to go back. Next time I would like to get a group of friends together. So many more spots to surf that we didn't have time for."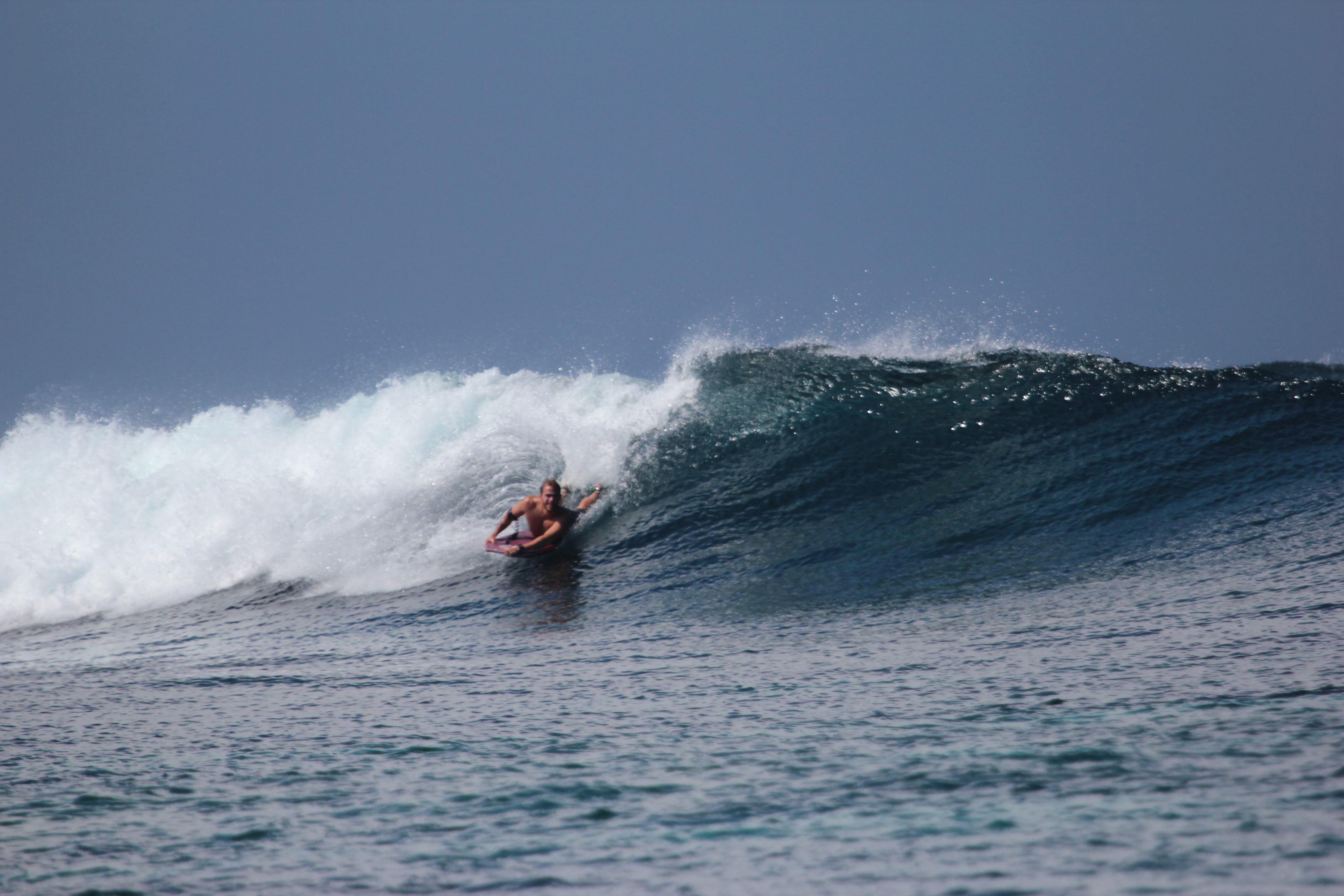 Lastly, what are your highlights from the whole experience?
Bianca: "Highlight for me was being swept away to this amazing island with the surf all to ourselves. We honestly can't thank the crew enough at Resort Latitude Zero for the best week of our lives. Great surf, awesome guides, delicious food and chilling out with Bintangs. This also couldn't have been possible without the Surf Stitch team. Such an unbelievable experience that we will never forget. I'm reminiscing about the crystal-clear water and sets coming through while getting ready for work and it honestly feels like a dream. THANK YOU!"
Keanu: "Just how secluded the island was, knowing how far away you are from work and rent and busy Sydney life was amazing. The most amazing experience of our lives. Thank you."