Landing a job that seems more like a hobby than work itself is something we all envision. We've said it before and we'll say it again, every now and again, you'll come across someone who's creative ambition and love for a certain concept is so strong that life throws them an opportunity, not a lemon.
Well, for Volcom's Global Design Director, Mr. Beau Campi, that dream and opportunity is alive and stronger than ever. An Aussie at heart now living abroad on the shores of California, Beau manages the visions and directions of all things surf for the label, creating magic each season with his team as they watch their creations get worn by people around the world.
Obviously enthused at what goes on behind the scenes, we pinched Beau for a quick chat to discuss the ins and outs of what a typical day entails, what's it like living the dream in the States, the process of developing new products and collections and much more! Join the conversation!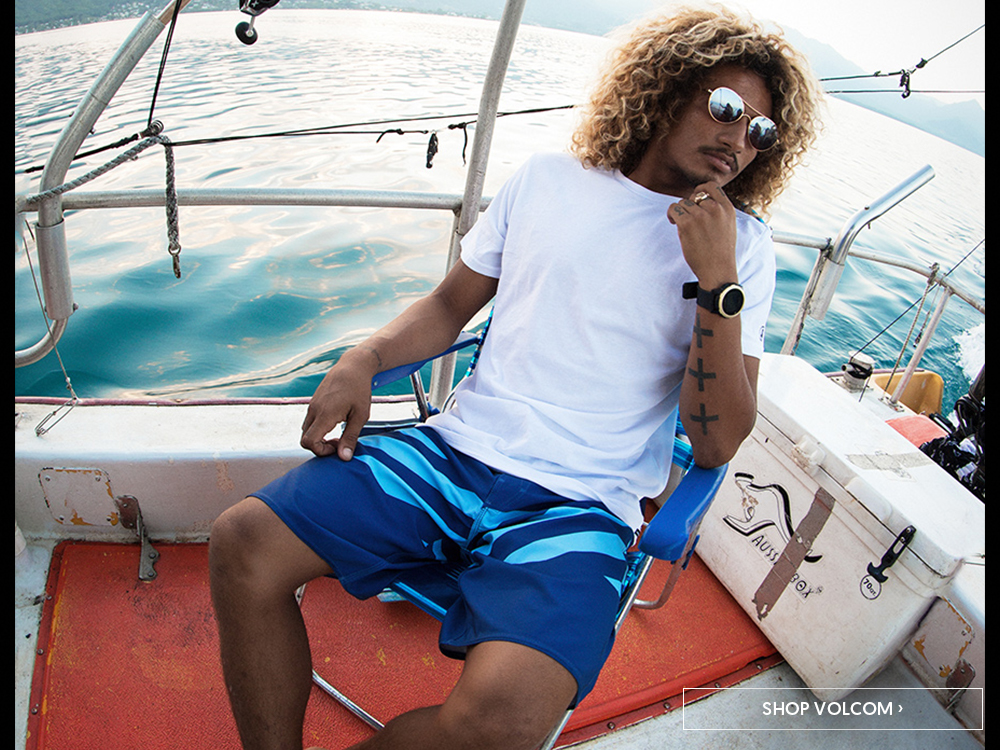 Yeah Beau, thanks for catching up! For those who don't know, can you tell us who you are and what you are about?
Yeah guys, no problem! Well... I was Born and raised in Oz and I spent my childhood growing up on the Gold Coast in our family home on Kirra hill. So I guess you could say I was pretty lucky to live that close to the beach, and not to mention one of the best pointbreaks in the world. I was always doing something creative, so when I finished school I studied graphic design. I then ended up landing a job for Billabong and discovered my passion for boardshort design. Now I've lived in the US and worked for Volcom for 2 years, and had the chance to use all my experiences creatively.
It's been a fun ride, mixing the things I love to do and earn a crust.
Epic! What are the best things about being an Aussie living the US?
Ummmmm... the long lines at immigration! Ha! Nah, seeing new places and meeting new people and having different life experiences that I wouldn't have in Oz. The US is a huge place with diverse people and landscapes. There isn't a day that goes by that I'm not surprised by something and just go 'what the f**k?' There's something about having almost anything you can think of accessible. Y'know you can see some crazy live gigs, hit the snow or even shoot some guns if ya want! All that with some "In n Out" animal style!~
What's your role at Volcom and what does a typical day entail?
I'm the Global Design Director for all surf products. So basically setting the vision and creative direction for boardshorts, neoprene and a small line of accessories. Depending where we are in our design window, a day makes up of working directly with the boardshort and print designers making our seasonal direction rad and getting creative. Then to more technical stuff with our Product Developer on fit, construction, print and fabric execution. You know, solving any hurdles we might have. We line up with marketing and sales a lot on the way also, then we are on the same page and share the same direction. Throw in some emails and a meeting or two, and a quick lunch shred then I'm home and hosed.
So you look after the worldwide boardshort collections? How does each region differ?
Yeah, so each region Volcom is positioned a little differently. To me though, a good product is a good product. What works well for one region usually does for most, if not all.
We do make regional tweaks to leg length and some colours. But for the most part our global line covers what we want Volcom to be, and who we want to be rockin it.
Volcom's new boardshort range has just dropped on site and being Global Design Director you've obviously been pouring a heap of time into nailing it. How does it feel to have it finally out there for everyone to jump into and see?
I'm pysched! It's one thing to sell it to our sales team and retailers, but getting it out there to the world is the best. I love seeing people rockin our stuff! Y'know it's kind of a true design test. Whether you nailed a design and the end consumer you had in mind at the outset. Plus it's usually warm and your by the beach when you do see them. So what's not to love about that!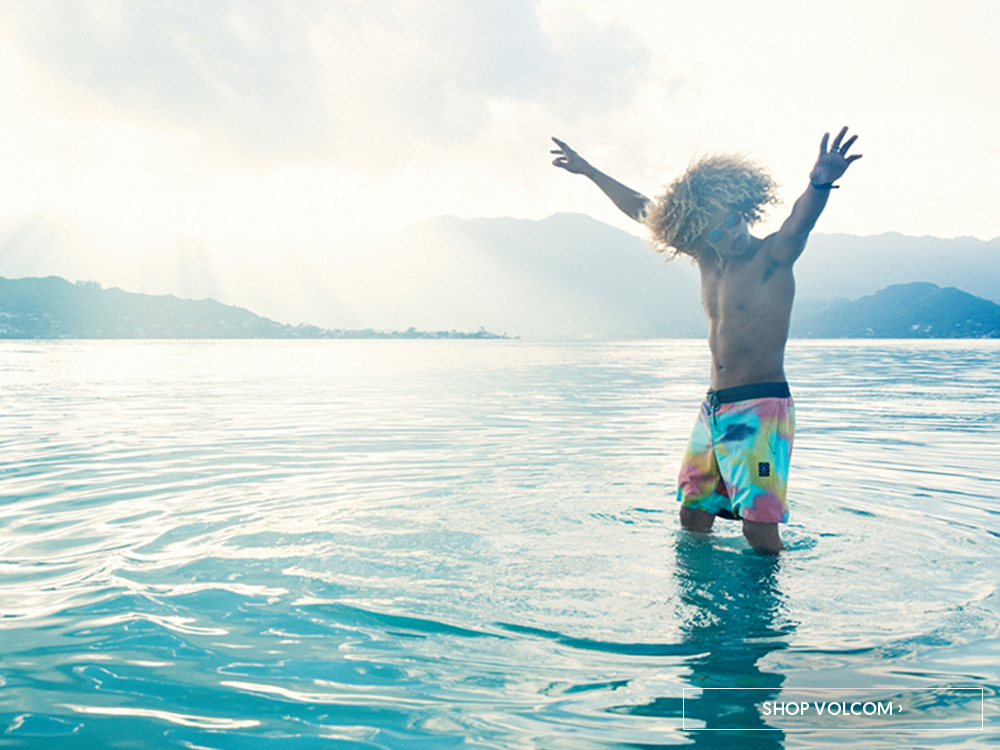 What's the best thing about first starting a new collection?
The freedom and excitement to start creating ideas that have been running through my head. I love this part of the process, cause it's getting all creative heads together and just spitballing. We'll get out of the office, do some vintage shopping, hit record stores and just take in everything that inspires us. Then from there convert that into a visual direction to set for the season.
So yea, it's my favourite time… Getting first samples is kinda like Christmas too haha!
How does this new range differ from ones in the past?
Colour, graphics and execution is a big focus for this range. I want to put out print and graphics that have a true Volcom representation and are fun. Execution wise, you'll see a mix of pigment prints, washes mixed in with regular sublimation in lengths from 17-20 inch. A nice balance that has some different tastes
What will we catch you in? Any favourites?
I really dig the Acid Slinger! Pretty mellow washed black ones, with a crinkle acid finish. Super comfy poly cotton fabric that I love, even to surf in.
18 inch. I don't like em to long. Yeah, those ones a sweet.
Can you tell us how the collection comes together? From first putting pen to paper to eventually seeing the final piece in stores?
It's a solid process, that's for sure. Any new fabric development is sent off first, as this usually takes the longest as it can get technical. This gives us time to personally test and get feedback from our athletes while we get the line designed. We set the best fabrics for the year and sometimes even more. Pretty much as I said there is the creative design window where we travel and compile a direction we are all vibin on. From there we set colour stories, and a print direction that the designers can then apply to their categories. A lot of colour combo's are spun and massaging to get a line that we feel is balanced to present to sales and marketing teams. Final art is then sent off, with all the technical packaging to guide our makers to nail a first proto. This will be fit and comments made to then go to to a full sample set. The sales team take the samples on the road to show retailers and place orders. 5 or so months later it will deliver into store and be ready for you to purchase. That's the basis of it that probably a bore to most. I like the idea of seeing something you like and having it mailed to you the next day!
Who test runs the samples to make sure they are exactly what you are after?
Myself and a majority of the team surf. So we'll test them when we can, if the water is warm enough here, or we'll send some test samples over to some of our surfers in Hawaii or Florida. That gives us some solid feedback from guys that surf all day.
Once the collection is final, how do the Volcom crew celebrate?
We'll celebrate any excuse we can! Throw back some beers and get weird, why not!