We love paying homage and recognising great community messages and stories, so when we came across Surfing Mums, it really was a no brainer. The non-profit association was formed in Byron Bay in 2008 with one simple message in mind… 'to give women a safe and supportive environment to try something new, and get back into exercise they enjoy, without having to arrange alternative child care." Put simply, mums partner up, so that while one stays to mind hers and another mum's children, the other goes for a surf. And then they swap!
A great way for people to come together for sun, sand and surf, the concept was quick to take off around the Aussie coastline, with now 40 groups broken into 440 members and over 660 kids from the Sunshine Coast to Margaret River.
Eager to learn more about this amazing community project, we caught up with President of Surfing Mums, Carla Wilson, to talk more about how the idea first came to life, how a meet up usually goes down, how people in each community can get involved, and much more!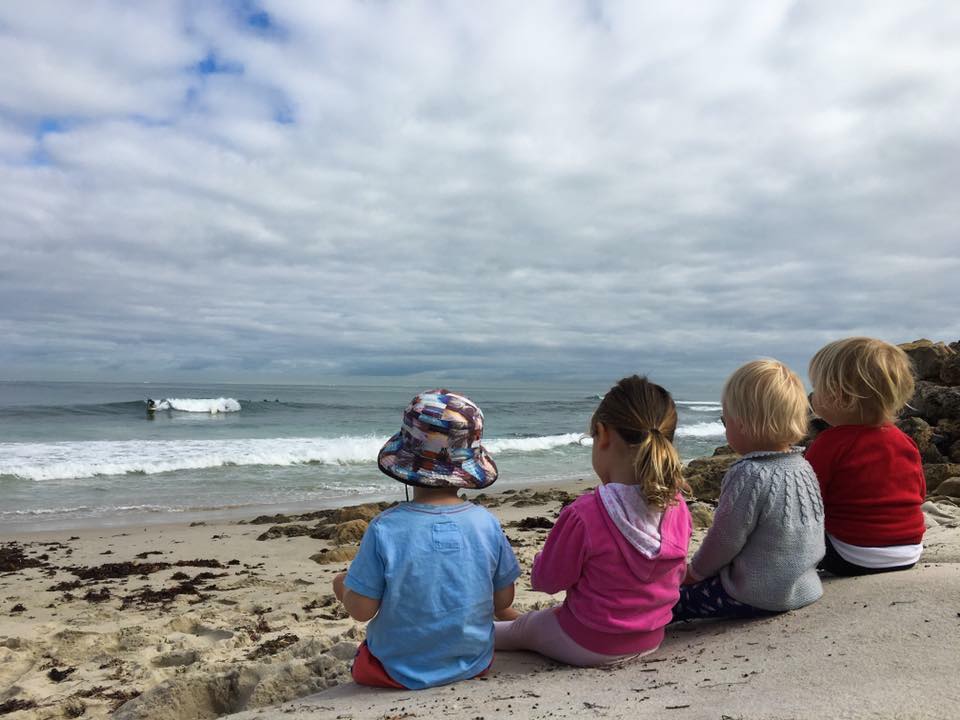 Tell us how Surfing mum's first came to fruition?
In 2008 two surfers met up on a beach in Byron Bay. The surf was pumping but they couldn't go out because they were mums and they both had babies to care for. Disappointed they sat down for coffee….. It didn't take long for them to hatch a brilliant plan. To swap child minding with surfing! So while one mum minded the babies from the shore's edge, the other mum surfed and then they swapped.
Groups began sprouting up all around the coast of Australia and today, Surfing Mums Inc. has grown to 40 groups, 440 members and 660 kids.
Surfing Mums is not your average board riders club. Think "mother's group" dosed up with salt, surf and sand. Every week mums (and dads), meet at the beach or park to swap child-minding for surfing. The adults get some precious, guilt-free time to exercise; the kids get to play. All get to socialise and all go home salty and happy. And in typical multitasking Mum's style, they are role modelling a healthy pursuit.
"Surfing Mums provides a tremendous support for mothers after giving birth, when they are home with young children, and as they juggle part-time work and caring for their children. Surfing Mums gives women a safe and supportive environment to try something new, get back into exercise they enjoy, without having to arrange alternative child care."
Who's involved?
We all join up because of our love of surfing, but our members tell us it goes deeper than that. For some it's been a tool to help overcome postnatal depression, for others it's been a way to connect with other parents in a new community, and we love that there are friendship groups that have sprung up all around the country as a result. It's not about how well you surf, it's about getting out there and having fun. We have some parents on five-foot nothing boards, and others just starting out on nine-foot softies, all hooting and hollering, with the trademark of a Surfing Mum – their beaming smile.
With hundreds of parents meeting every week around the country - wetsuits, boards, toys, food, babies and kids in tow – there's whole lot of preparation and organising that goes behind the scene by our passionate committee. Surfing Mums wouldn't run without our dedicated team of volunteers who coordinate each one of our groups, ensuring every parent gets time in the water, and every child is safely cared for.
Surfing Mums' growth to date has been organic. Our rapid increase in membership has brought with it some challenges and we remain reliant on membership, government grants and fundraising. Our fantastic sponsors such as Global Surf Industries, The Perfect Wave, Boardcovers, 3D Fins and Breathe Bell Tents support us with merchandise and vouchers, however we are waiting for that right Partner to help take Surfing Mums Inc. global and into the future.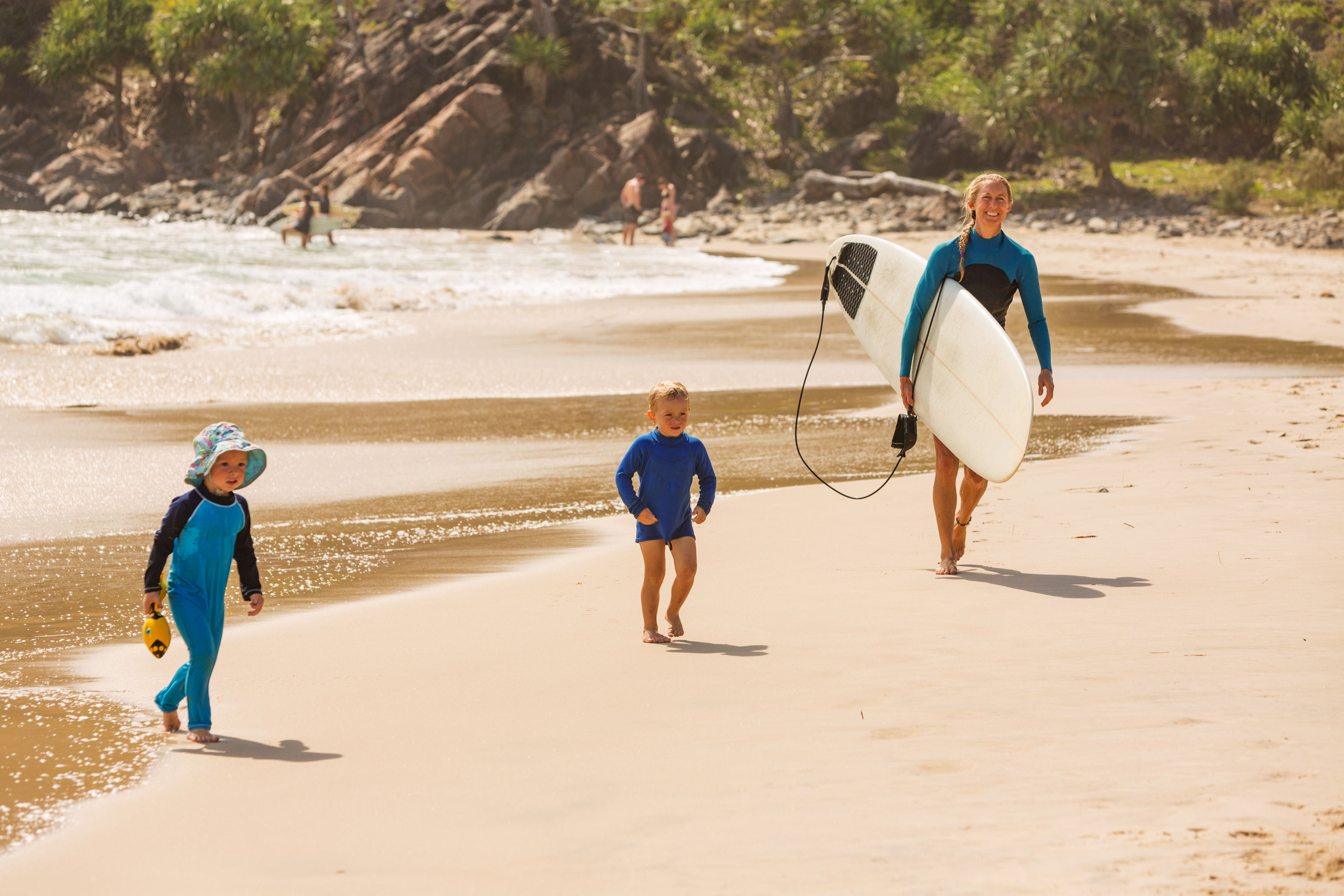 What's the best things about leading this community project?
Every woman knows that having a baby is no easy thing. It changes your life, and for months there is no salt water, no waves and no adventure. So for a surfing mum any time in the water is valuable. It makes us stronger, fitter, happier and healthier, and most of all keeps us sane. This is what makes Surfing Mums is so important, and this is why it changes your life. It breaks you out of that daily routine – feed-change-sleep-clean-cook – and for a few moments, it's about you!
It is these countless smiles from parents, giggles from children happily playing, the true community support, and boundless encouragement that keeps me leading and building our solid network. To give even more parents a richer experience of parenting – one that involve a lot of surfing!
Why surfing over other activities?
Once you're are a surfer it is hard to go back and remember what it was like before you became one, and when you can't surf, you still wake up wondering what the surf is doing and what you're missing out on. But catching a wave with a baby or toddler in tow is something far from what many mums can imagine being able to do.
This is why Surfing Mums has spread so rapidly. However the concept of Surfing Mums can (and has been) applied to other activities. It's about a building a community and network for parents around a common interest or passion, and enabling them to get active, outdoors and having fun without having to arrange alternative childcare.
The initiative is growing so rapidly, do you think it will ever reach worldwide status?
Yes! Surfing mums has the potential to reach anywhere where there are mums (and dads) that surf. While so many areas of life change when you become a parent, in our opinion a surfing lifestyle is one that doesn't need to. All it takes is a few dedicated volunteers, passionate about our vision, and Surfing Mums will reach parents all across the world!
Give us a rundown of how each event goes down from start to finish.
Once you're a member of Surfing Mums, meeting up is easy!
Check your group Facebook page to see where the session is on.
Meet the group with surf gear and kids in tow.
Pair up with a surfing buddy and organise who will watch the kids first and who will surf. Then swap roles.
Kids are played out, mums have surfed and socialised – everyone leaves with a smile!
How can people get involved?
Here at Surfing Mums Inc. we are a membership based community, and for less than $1 per week (which covers your insurance and a gift) you can be involved in your nearest group. It's similar to paying to join a playgroup, but much saltier!
Getting involved is easy.
Register online at www.surfingmums.com or contact us at lifestyle@surfingmums.com for more information.