For lovers of tropical storms, spontaneous travel plans, and living in the 'now', comes the latest collection from our good friends over at Rhythm. With our minds already planning this year's escape to exotic and warmer shores, the aptly named Jungle Fever collection has all bases covered. From earthy knits for airport mornings, to drool-worthy swim styles for as soon as your feet hit the beach, the latest collection is serious goals and we've got every item on our wishlist.
In between flitting to sultry locations and designing new collections, the Rhythm Women's team is hard at work in their Burleigh office just down the road – so we took the opportunity to chat to their dedicated marketing coordinator, Hannah Sherrin to get exclusive insight into what it was really like shooting in the Pacific paradise of Samoa.
We found out about the retro-inspired prints and wanderlust vibes that influenced the collection, and what it was like working with the gorgeous Nathalie Sinkvist on location.
Join the conversation!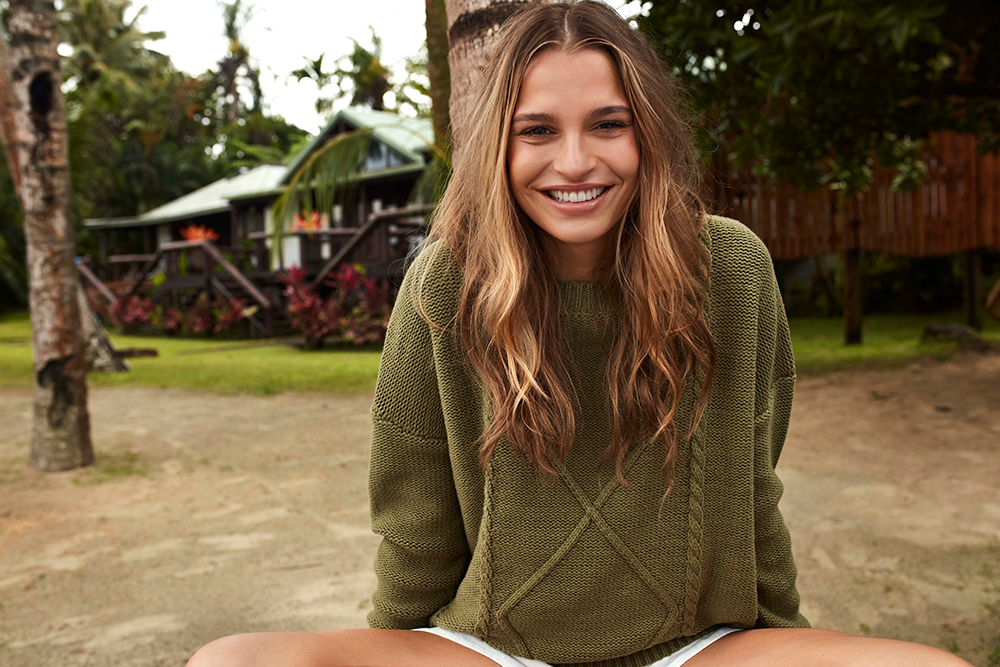 Hey lovely! First off, can you tell us who you are and what your role is at Rhythm?
I'm Hannah and I am the Women's Marketing Coordinator.
That sounds amazing – what's a typical day like in the office with your team?
My day usually starts with a quick catch-up with our brand manager and from there it can go anywhere depending on what's required … EDM creation, social planning and Insta stories to name just a few!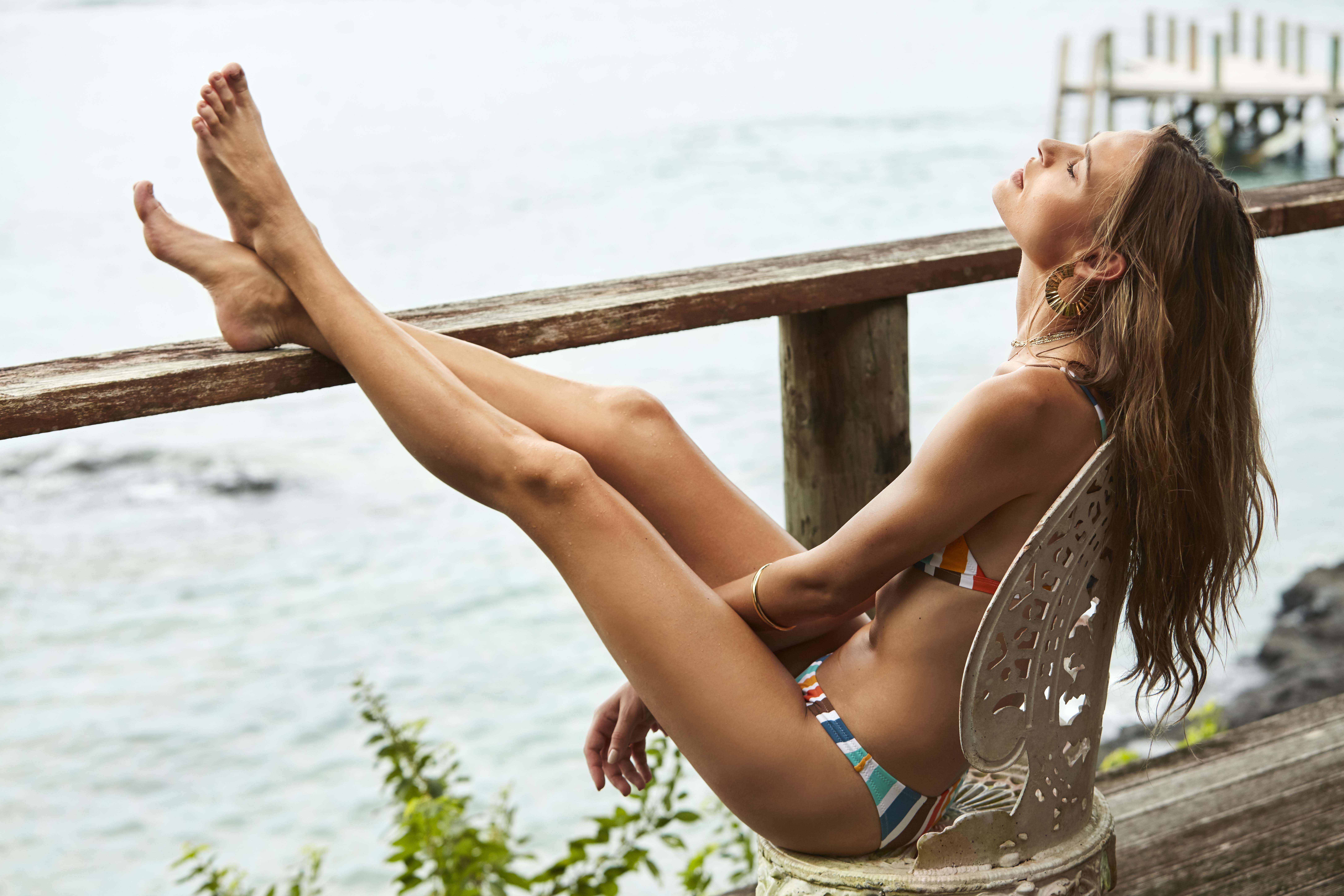 The latest Rhythm collection, Jungle Fever has just launched and we're basically drooling – can you tell us about the cuts/styles/colours/textures/prints we're seeing here?
Of course! A standout from the collection is the showstopping Fleetwood print which has been inspired by retro wallpapers. It is featured in a new scoop top and one piece featuring mock tie details. Everyone's favourite Zimbabwe stripe is back in a fresh new colour that is really tropical with a twist! The collection also features solid, bold colours – we dare you to mix and match and create your own look. To bring it all together, the collection is complemented by apparel pieces in linens and yarn dye stripe cottons creating the perfect everyday wardrobe and the must-haves for an island getaway.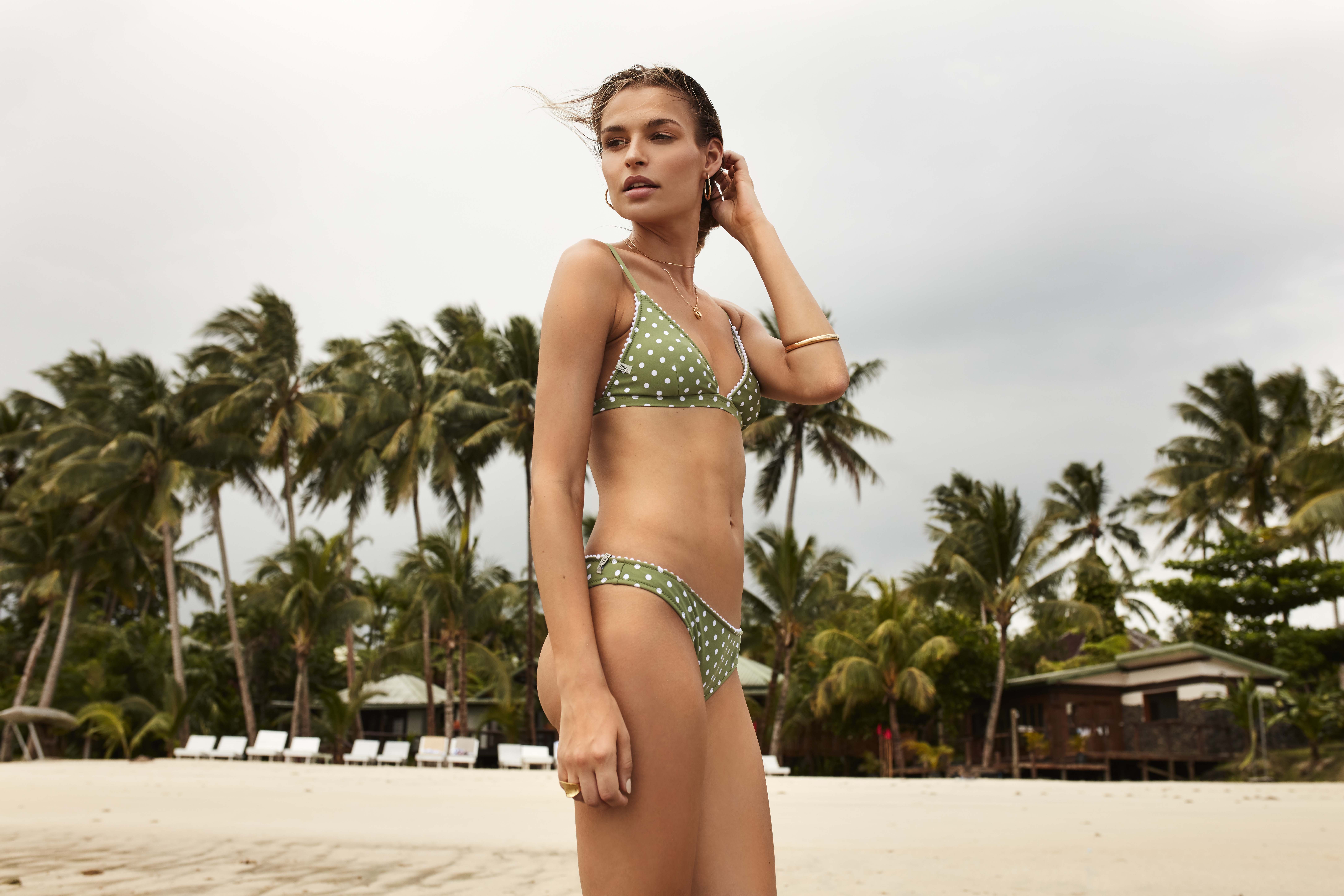 The imagery from your Jungle Fever campaign is incredible – where was it filmed and why?
Where the glistening ocean meets the lush landscape, Samoa was the perfect backdrop for this collection. Our sultry muse Nathalie Sinkvist smoulders in the Samoan heat. Rich vibrant tones of swim fiercely stand out against the worn and woven textures of beach fales. As for apparel, this collection comprises effortless silhouettes – as we explored Samoa we found colourful buses, vibrant homes and fruit stalls that provided the perfect backdrops for travel inspired clothing. These transeasonal pieces will take you from searching for swimming holes into the tropical storms – just as we did in Samoa!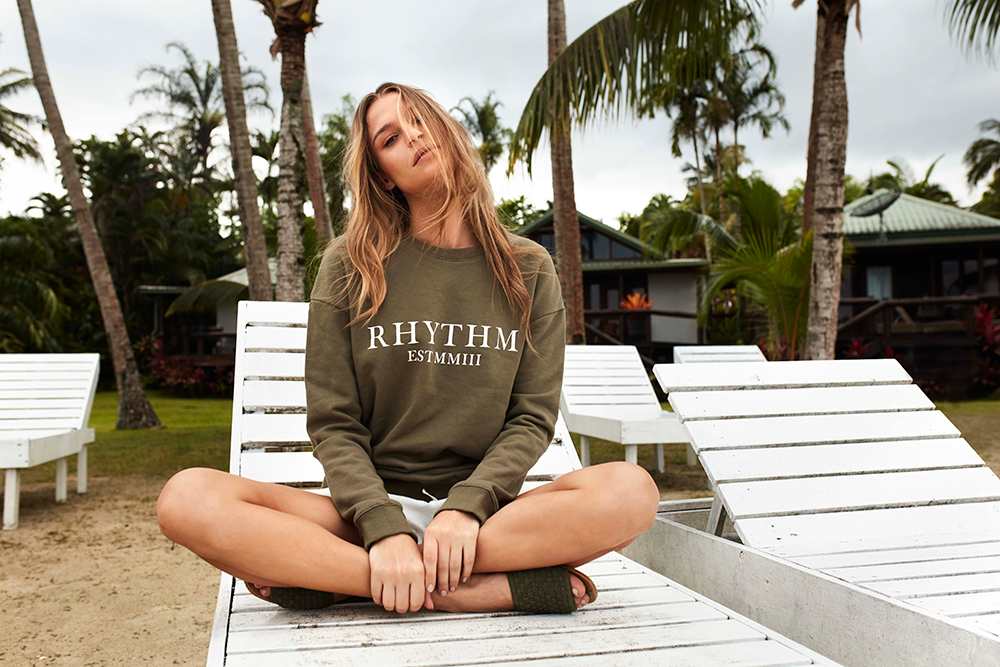 What inspired the vibe of the campaign shoot itself?
We took a lot of inspiration from the landscape itself. The steamy weather paired with Ashlea Penfold on hair and makeup ensured Nathalie was a dewy, glowing island goddess. You can feel the heat just by looking at the images, and they really have you longing for a hot summer and even hotter swim. This seasons swim is very bold in tones and prints, our muse Nathalie is a strong and captivating beauty – together, it all just paired perfectly.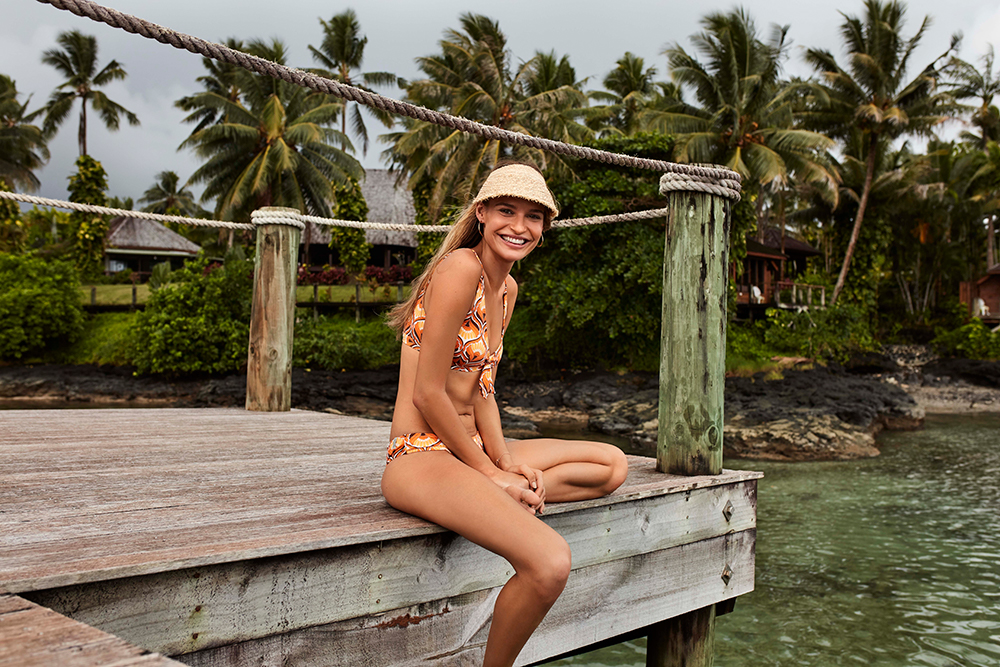 What were the highlights and/or challenges of shooting – was it a remote location etc?
Samoa is a tropical dream. At times the weather was challenging for shooting a campaign, but I will never forget the moment the sun shone on the shores of Sinalei and the water was so clear and sparkly. We love how diverse the shoot is from being really steamy in the rainforest, to the glistening vibrant blue ocean. Besides, who doesn't love a tropical storm.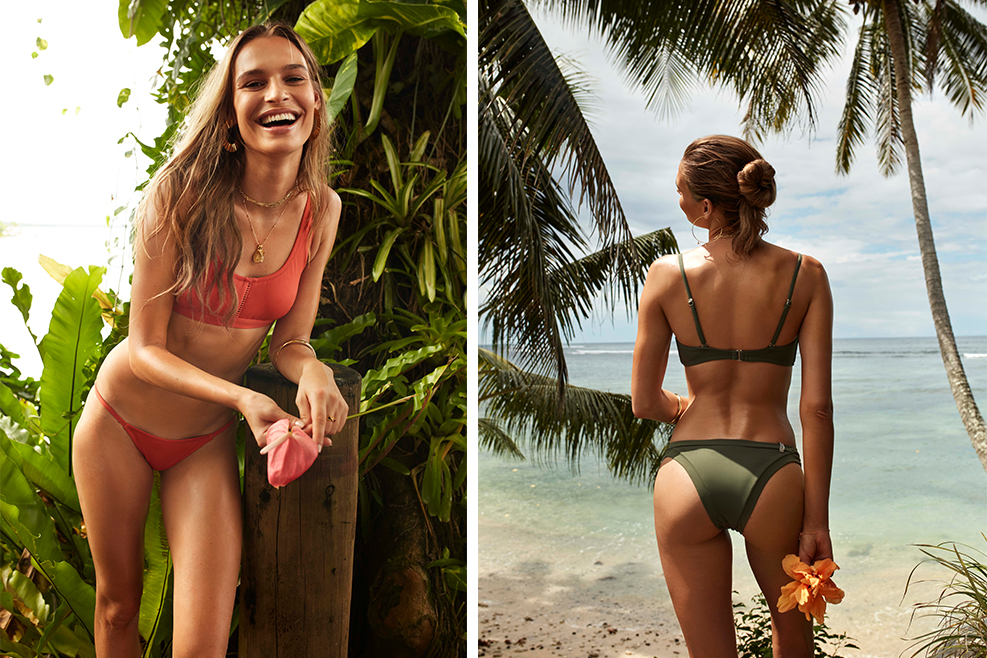 Tell us about the characters involved in the shoot?
Our muse Nathalie Sinkvist was photographed by Elisabeth Willis, with hair and makeup by Ashlea Penfold. Nathalie brought so much more to the shoot than her beauty (hello, that smile!) – she is genuinely so sweet and has an adventurous and inquisitive spirit. Nathalie would just pick up tropical flowers and smell them as we would move around Sinalei and this organically created some of our favourite images! We have shot with Libby in the past, and she was perfect for this campaign. Libby has a great eye, and goes above and beyond for the perfect shot, you can only imagine the BTS. It wouldn't be a Rhythm campaign without Ashlea on H&M! Ashlea is notoriously the best at what she does, but also helps with styling and playing DJ. All of this wouldn't be possible without Rhythm Womens Brand Manager – Daniella. Daniella is the creative director of the campaigns, from choosing the location in the first place to bringing the designs and story of the collection to life. I was so fortunate to join the team on set in Samoa. My role began with securing all of our amazing jewellery collaborations for the shoot, to getting BTS on set and sharing on social. It really is the dream team!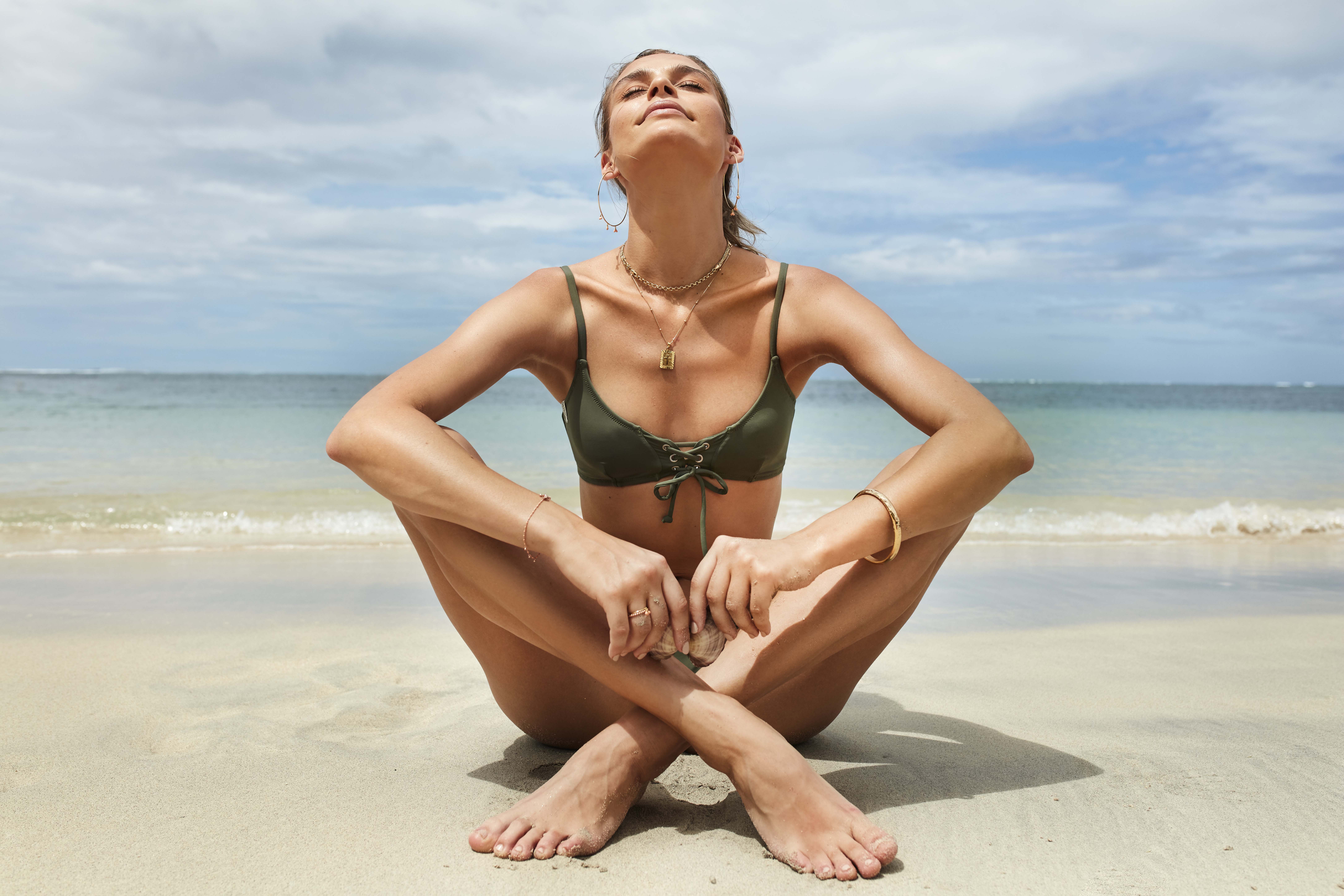 What's your favourite piece from the Jungle Fever collection and where we will find you wearing it?
You only have to walk in to the Rhythm office to know the standout is the Panama Dress! It's perfect to throw over your swim, but with the eyelet and lace up detailing it really transcends from beach to the bar – or the office!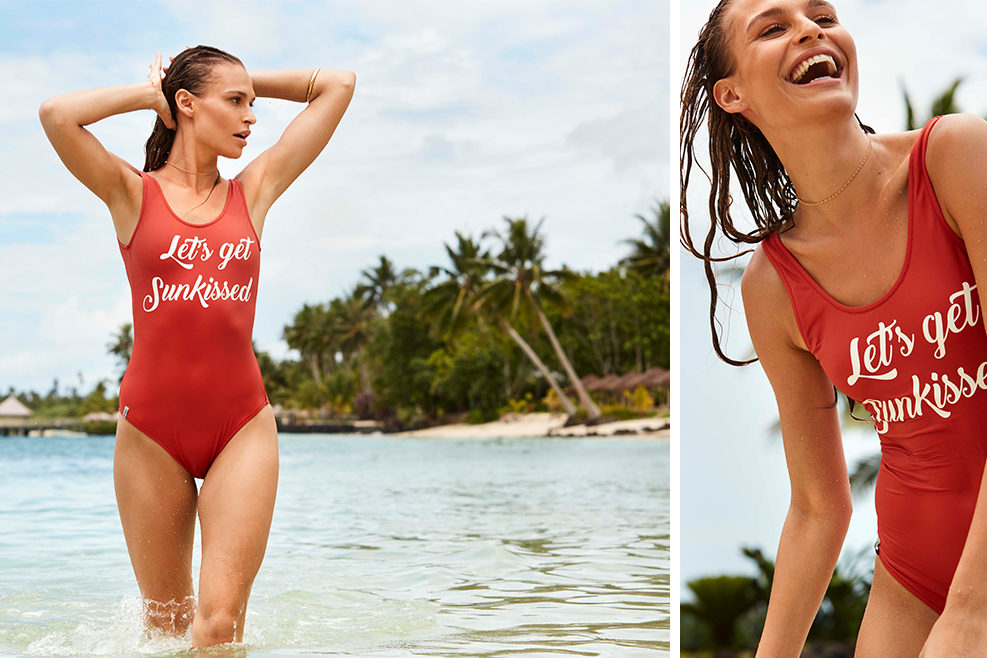 Funniest/strangest thing that happened on the shoot?
A real highlight of the shoot happened behind the camera. We were very lucky to shoot and stay at Sinalei Reef Resort allowing us to immerse in the beautiful Samoan culture. Some definite highlights included dinner with the team featuring traditional song, dance and a fire performance! The resort also has their own string band, so some favourite memories are watching the sunset over a coconut mojito. In terms of funniest memory, it would have to be when on our final night the band serenaded Nathalie. However, with Ashlea Penfold on set the laughter is non stop.