SHOWCASING BRANDS THAT PRODUCE ETHICAL AND ECO-FRIENDLY PRODUCTS
Welcome back to Planet Positive, an editorial piece celebrating and showing brands that produce both ethical and eco-friendly products making a positive change for a sustainable future.
We are living in an age where brands are becoming more aware of the impact they play on the environment, resulting in positive changes to their key processes to ensure the best for both Mother Nature and the individuals involved with a products development.
Season after season, range after range, the team at The Critical Slide Society have been conscious for years that each little change they dabble in does in fact, make a difference when it comes to the big picture of a brighter future. Our latest Planet Positive feature touches on the sustainability programs our friends at the brand are implementing, initiatives that we at SurfStitch are proud to spread the word of.
"It's actually something we've been working towards for a few seasons now, progressively working on various areas of product and the business to reduce the overall footprint." – Jimmy Slide, Founder and Artist.
From shifting their printed t-shirt range to be 100% made from recycled cotton (some even from the scraps on the factory floor to prevent waste), to customers receiving their goods in biodegradable cornstarch packaging, TCSS are focusing on both the now, and the near future of their brand (hint: there's plenty to come!).
With each pinch of information comes more questions, more excitement and more stoke to support a business doing what they can for the greater good. So much so, in fact, that we sat down with Critical Slide's Founder and Artist, Jimmy Slide to iron out the details of the brands passion and commitment towards a sustainable future. Join the conversation!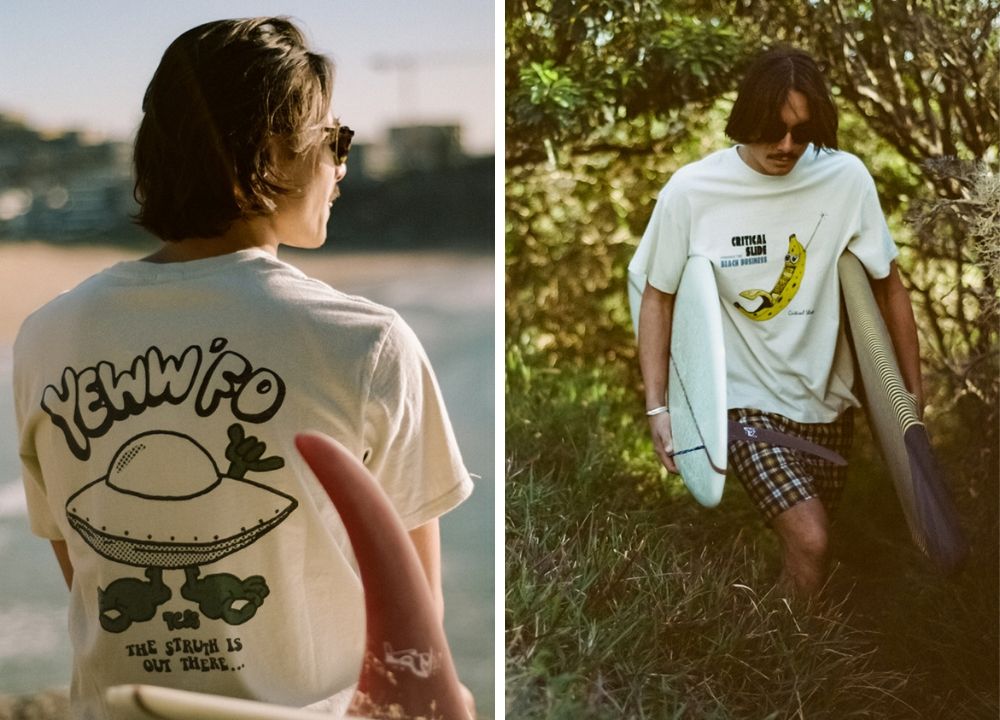 Can you tell us who you are and your position at Critical Slide?
Jimmy Slide, Founder and artist.
Let's get straight into it. The brand has making steps towards a more sustainable future, and the latest collection embodies the key processes and initiatives that come with it. Tell us all about it?
It's actually something we've been working towards for a few seasons now. Progressively working on various areas of product and the business to reduce the overall 'footprint'. We've progressively moved to 100% of our printed tees made from recycled cotton (arguably the most sustainable cotton jersey source), 100% of the garment bags that product are delivered in are now made from a cornstarch material, we have added some recycled nylon to much of our boardshort program. We are also holding less stock going forward, so we're only making what is basically ordered. So reducing the need to discount product (so supply meets demand!) We've also got Yulex wetsuits coming in for Summer and overall just looking at ways and approaches that have less impact. Which we think is the responsible way to run a business.

What first prompted the sustainable approach?
There was no one thing, although heading to China 2 years ago and seeing the quality of the air over there is pretty eye opening and confronting, there are towns that just don't have blue sky. They literally live under a grey blanket, areas like Guangzhou, the home of thousands of factories, including apparel factories. China have also brought in legislation to ensure that the factories that supply your nice vintage washes and garment dyed garments are all up to scratch. Meaning a lot of washing factories have now closed down. Adding to that, there's just more awareness around consumption and the back story to producing garments within our industry and the end user, brands and as consumers we can no longer be naive to the process. Patagonia have done an amazing job leading the way in this space. They have educated the customer and set the benchmark for industry brands. We're not a global multi-million dollar business like Patagonia, but we can make our own effort in this space, it's all the little things that add up to the whole.
Who are the key people involved?
From our side, it's the design team and myself looking for ways to improve things. We also put it back on the makers to help us source alternative materials and improve the way things are done. The other key people involved will be consumers, there's a reason why things were done the old way, they were cheap and disposable. So unfortunately prices will need to increase slightly. We take a hit on our side, but the cost needs to be shared for it to be sustainable!
Tell us about the next steps throughout your range of products and how sustainability will continue to increase. We know there's certain elements you are implementing in your wetsuits and t-shirts in particular?
Correct, t-shirts we'll continue to look at ways to improve, including dying, washing, trims, printing. As mentioned we're moving to Yulex rubber in our wetsuits. One big thing will be transport and looking at ways to reduce the impact of our freight. We're looking at other alternative fabric options and as mentioned above, just creating enough product to meet demand as opposed to over producing. We are also addressing the lifespan of our product, upping the weight of t-shirts to get more life out of them. Changing small details like our buttons on boardshorts, so they're no longer attached by thread, they're attached by a elasticated grosgrain, so buttons dont fall off. Guys are pretty lazy when it comes to sewing buttons back on, so when they loose a button, quite often the short will get thrown to the too hard pile. Constant improvement and refinement, season on season is what we're working to.
What's one message you want our audience to know? How important is it to realise the effects this positive change can have on the world and the environment?
Sustainability has several points of responsibility. From the makers, to the designer, to the brand to the consumer. All parts of the process have decisions that get made, to be responsible or not. By creating t-shirts from recycled yarns, by changing our poly bag material, we're not saving the world, but providing more sustainable options, and having LESS impact.